About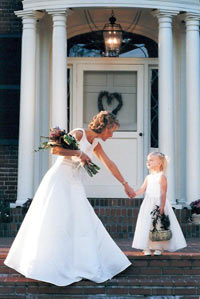 Meet Peyton and Karin Craig owners of Encounters Inc., a Maryland and Washington D.C. based event planning company. Established in 1999, Encounters specializes in planning, consulting and coordination of weddings, corporate and other special events.
Prior to the formation of Encounters, Peyton and Karin spent nearly 20 years of employment within the hotel industry. During this time, they acquired a wealth of knowledge and expertise relating to hospitality, catering, vendor relations and group management. They are also steeped in family traditions, operating as second and third generation trade professionals, with North American and European influences.
Understanding the unique differences amongst their clientele such as culture, environment and social-economic stature, Peyton and Karin saw the need for a fresh approach. Instead of relying on common traditions and practices of others, weddings and corporate events could also reflect the characteristics of their hosts. Regardless of opportunity, all events should showcase a level of quality and style.
Encounters has serviced hundreds of weddings and special events for fortune 500 companies, major healthcare institutions and government contractors. Their industry knowledge has been featured by media publications such as Style, Brides, The Knot, Baltimore Sun and Washington Post. Recognized for their expertise and client advocacy, Encounters has gained a reputation as a leader in the event planning industry.
Peyton and Karin love what they do! They enjoy meeting new people, take pleasure in the happiness of others, are devoted to the success of their efforts and thrive on new ideas and changing needs.